MCY 70 Beautifully Different
Awards

Best Import Motoryacht 70-80 ft
2012 Editor's Choice Awards Winner
Fort Lauderdale International Boat Show

Best Design Trophy
Cannes Boat Show 2012
Layout
Lower Deck 3 Cabins Galley Down
Technical Specifications
Main dimensions
Overall length (LOA) 21.30 m - 69 ft 11 in
Maximum beam 5.45 m - 17 ft 9 in
Draft 1.65 m - 5 ft 5 in (V-Drive) 1.80 m - 5 ft 11 in (ZF POD)
Displacement 41 t Dry (V-Drive) 42 t Dry (ZF POD)
Engines
2 x MAN V8 1200 (V-Drive)
2 x MAN V8 1200 (ZF POD)
Speed
Maximum speed 33 kn (ZF POD) | 31 kn (V-Drive)
Cruise speed 24-26 kn (ZF POD) | 24-26 kn (V-Drive)
Tanks
Fuel 4000 l - 1057 US gal
Fresh water 840 l - 221 US gal
Building materials
VTR, Kevlar®, Carbon Fiber
Naval architecture & engineering
Monte Carlo Yachts
Exterior and Interior design
Nuvolari Lenard
Key features
OVERVIEW
The MCY 70 is the perfect evolution of the aesthetics and cutting-edge functional qualities expressed by the MCY 76 and MCY 86. There is no yacht quite like the MCY 70, it is beautifully different from anything else found in the oceans of the world. Highly expressive of the Monte Carlo Yachts' style with elements such as the high-flared bow, the MCY 70 also distinguishes itself with previously unseen features such as the sinuous flow between the profiles of the fly and fashion plates.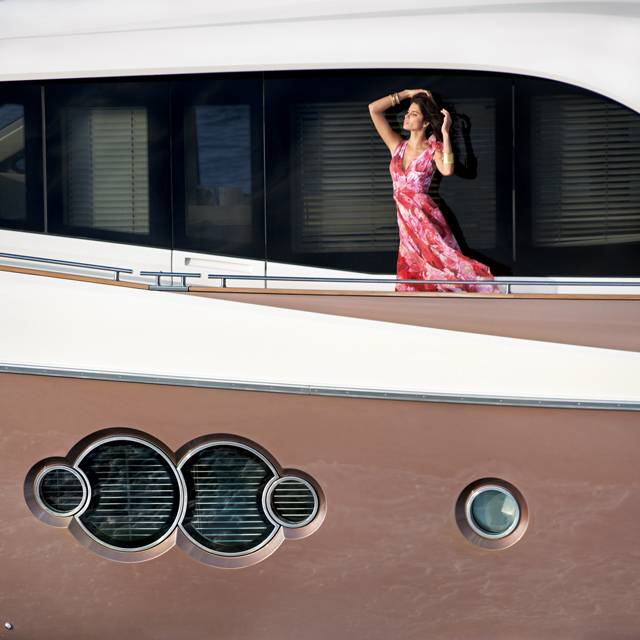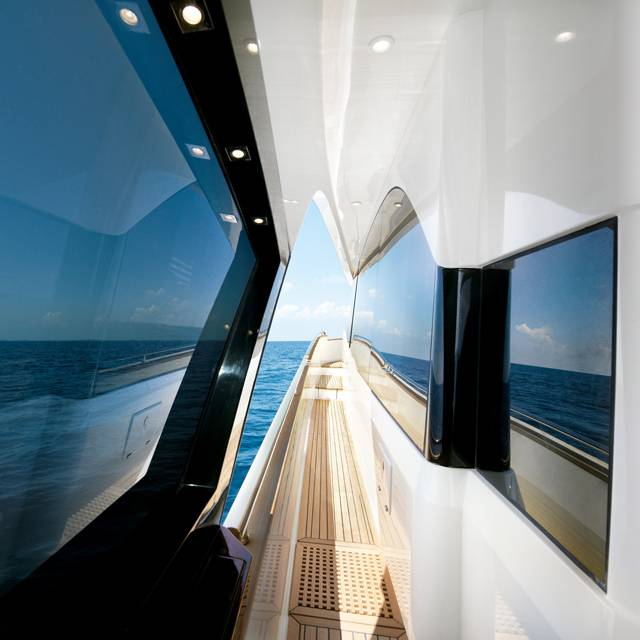 ENGINEERING APPROACH
Designed with clear vision and built with state of the art production methods that feature a modular approach and innovative infusion process, the MCY 70, like all Monte Carlo Yachts, is built to take to sea and sail well and safely. The advanced keel structure features self-supporting sandwich plating that together with longitudinal reinforcements - there are no floor plates - a bow crash box, and extensive use of kevlar in the areas of greatest impact provide the Monte Carlo Yachts with a very solid but light shell.
EXTERNAL DETAILS
The third boat in the MCY Collection to sail the seas, the MCY 70 features all the form and function the range is known for. The spacious aft area is fully sheltered by the extended flybridge and the ingenious usage of steel and glass fashion plates, a signature Monte Carlo Yachts trait, further increases the feeling of onboard privacy.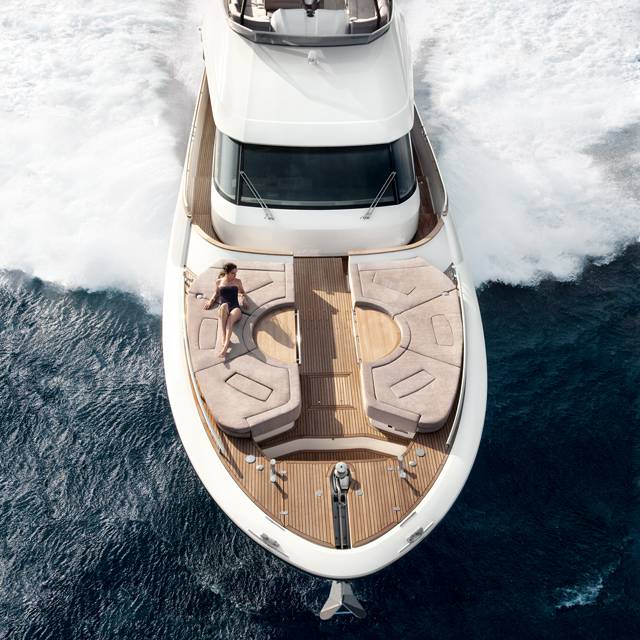 "Complex and refined design elements immediately convey fluidity an elegance to what is a reinterpretation of the classic nautical bull's eye. Unique and distinctive traits reinforce the brand's appeal which is much more than merely a logo and makes the yacht immediately recognisable"
Dicembre 2012
Motonautica / Italy
"It claims a number of unique advantages over its rivals including a spectacular foredeck area with two semi-circular hi-lo tables, sunpads, folding backrests and discreet pop-up Led lamps."
Dicembre 2012
Motor Boat & Yachting / United Kingdom
Press reviews
NAVAL ARCHITECTURE
& MANUFACTURING PROCESS
Our Naval Architecture and Manufacturing Process
constitute an extraordinary innovative approach in the yachting sector.
Discover what makes them so special.
Find out more