MCY 76 The Birth of a New, Timeless Elegance
Awards
Best Production
Motor Yacht 51' to 80'
Asia Boating Award

European Powerboat of the Year
Düsseldorf Boat Show 2011

Motor Boat of the Year
London Boat Show 2011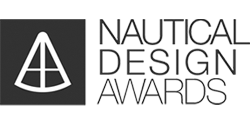 Yacht & Sail - ADI
Association of Industrial Design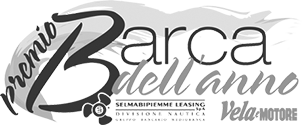 Motor Boat of the Year
Genoa Boat Show 2010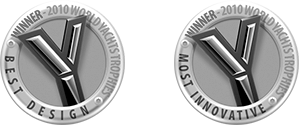 Best Design Trophy
Most Innovative Yacht Trophy
Cannes Boat Show 2010
Technical Specifications
Main dimensions
Overall length (LOA) 23.05 m - 75 ft 7 in
Maximum beam 5.65 m - 18 ft 6 in
Draft 1.60 m - 5 ft 3 in (V Drive) 1.70 m - 5 ft 7 in (ZF POD)
Displacement 47 t (V Drive) 48 t (ZF POD)
Engines
2 x MAN V12 1400 (V-Drive)
2 x MAN V8 1200 (ZF POD)
Speed
Maximum speed 30 - 31 kn
Cruise speed 24 - 26 kn
Tanks
Fuel 4000 l - 1057 US gal
Fresh water 1000 l - 264 US gal
Building materials
VTR, Kevlar®, Carbon Fiber
Naval architecture & engineering
Monte Carlo Yachts & Seaway
Exterior and Interior design
Nuvolari Lenard
Key features
OVERVIEW
When it launched, the MCY 76 heralded a new benchmark for luxury and technological content and introduced Monte Carlo Yacht's timeless, elegant style to the world. The MCY 76 develops classic elements into a new boating vision that shuns vulgar ostentation for refined personality and maximum functionality.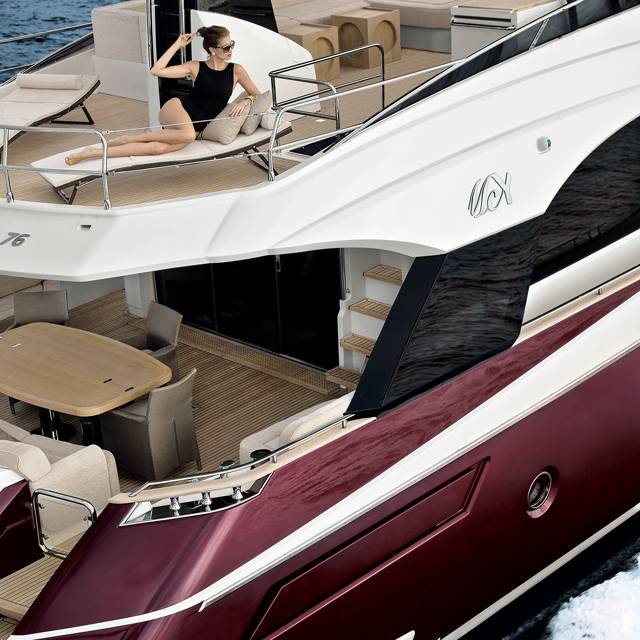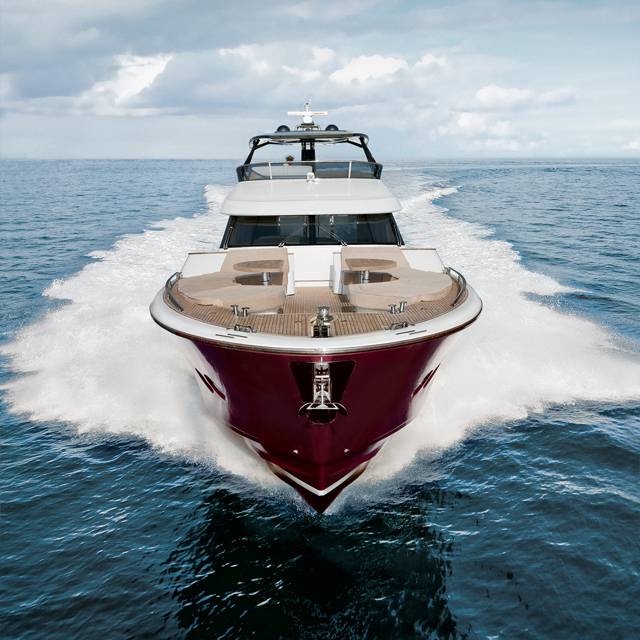 DESIGN TRAITS
The naval design that the MCY 76 introduced to the world and has become a defining trait of Monte Carlo Yachts is unmistakably refined and contemporary elegant and makes no concession to nostalgic retro fancies or aerodynamic excesses. Our signature style is evident both in the overall line of each boat with their iconic profile and the pulpit-less high flared bow, and in the details,like the original touch given to the portholes by reinterpreting the classic bull's eye.
AESTHETICS
Like all Monte Carlo Yachts, the MCY 76's interiors are the result of a masterful blend of aesthetic design considerations and smart, cutting-edge production resulting. Whatever the layout selected by the owner one thing remains the same, the beautifully appointed spaces are designed for comfort and the spaces are large, almost incredibly so for boats in this size category.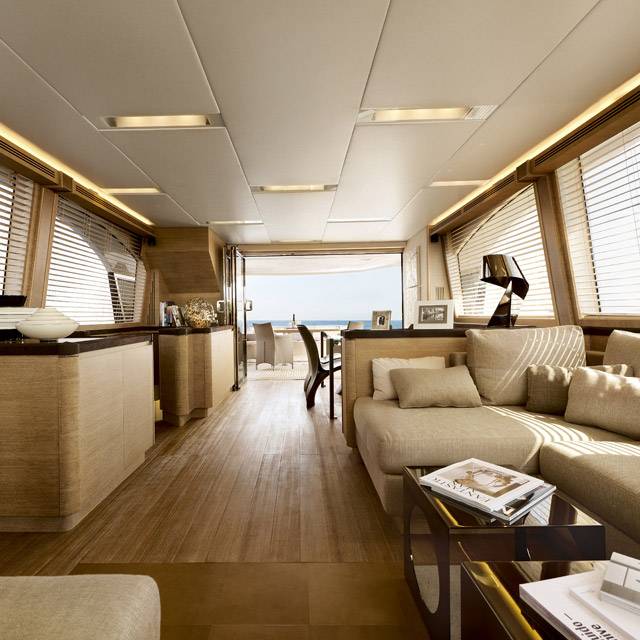 "In terms of external styling, the MCY 76 really stands out. The brief was for something timeless, a future classic."
November 2011
Yachts International Magazine / U.S.A.
"In terms of external styling, the MCY 76 really stands out. The brief was for something timeless, a future classic. The MCY 76 lines are just that, as distinctive as they are sophisticated."
April 2011
Yachts International
Press reviews