MCY 76
Awards

Robb Report China - Best of the Best 2019
Yacht Category (under 100 feet)
Technical Specifications
Main dimensions
Overall length (LOA) 23.06 m | 75 ft 7 in
Maximum beam 5.75 m | 18 ft 10 in
Displacement 52 t Dry
Engines
2 x MAN V12 (1400 hp)
2 x MAN V12 (1550 hp)
Speed
Maximum speed: up to 30 kn
Cruise speed: 24 kn
Tanks
Fuel up to 5000 l | 1320 US gal
Fresh water 1000 l | 264 US gal
Building materials
VTR, Kevlar®, Carbon Fiber
Naval architecture & engineering
Monte Carlo Yachts
Exterior and Interior design
Nuvolari Lenard
Key features
OVERVIEW
The new MCY 76 is the next embodiment of Monte Carlo Yachts' first ever yacht. At 23.06 mt, the new MCY76 offers increased unique customisation opportunities in its size category, alongside the even greater exposure to natural light afforded by the wider windows for an even increased personal relationship with the sea. The exterior lines of the new MCY 76 are sleeker than ever, inspired by the larger units of the MCY Collection.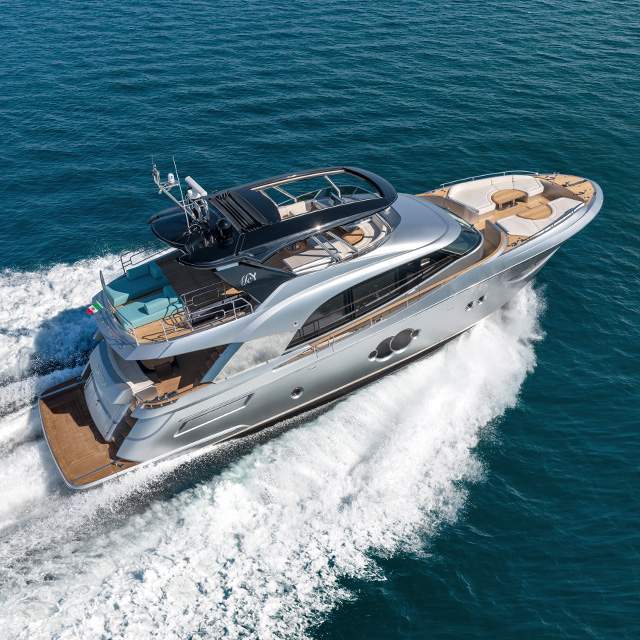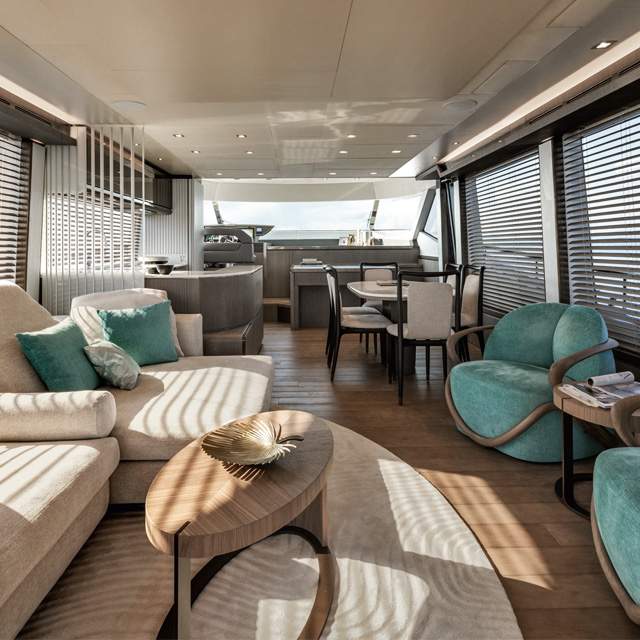 INTERIOR MOOD
The new MCY 76 features larger than ever life interior spaces, enhanced exposure to natural light, and unprecedented custom layout configurations; for that his key words are increased privacy, extreme comfort, and personalization.
The presence of multiple living spaces on the main deck enables individuals to relax on the comfortable sofas and armchairs, or dine on the spacious Carrara marble table. A fully equipped galley naturally integrated in the saloon layout has been designed to fulfil the everyone's desires.
MATERIALS & TRIMS
The interiors are highlighted by three-dimensional
 decor elements combined with elegant and
 sophisticated pairing of fabrics and wood panels. Pierre Frey, Hermès and Rubelli textures are only a
few of the wide range of high quality materials chosen to furnish the new MCY 76. White and grey pickled oak woods combined with lacquered and reflective details enrich the elegant interior design from the main deck all the way thorough the lobby and the interior of each of the four cabins.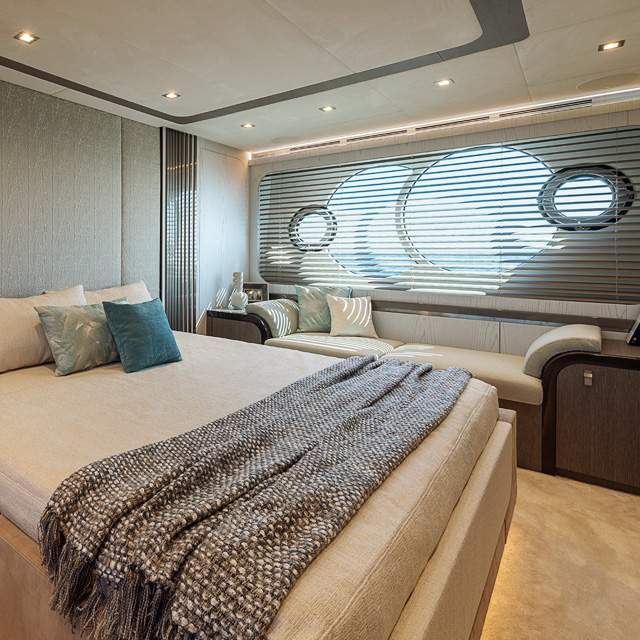 "The designers wanted to create a timeless yacht. And after ten years, the Monte Carlo Yachts 76 has evolved, while staying faithful to its DNA. Its looks, however, make it feel new. The overall design is classic and modern at the same time, because of the large portholes in the side, which have now been made a lot larger, and follow the stylistic tradition of the brand and allow greater exposure to natural light and close contact with the sea."
October 2019
Barche
"The heir to the Monfalcone yard's debut model, this 23-metre retains its family feeling but also ushers in a slew of novelties. […] The design of the superstructure exudes both power and elegance at once. There is a feeling of very solid formal and functional decision-making. Of an awareness of its own uniqueness."
Top Yacht Design – n. 19
Press reviews
NAVAL ARCHITECTURE
& MANUFACTURING PROCESS
Our Naval Architecture and Manufacturing Process
constitute an extraordinary innovative approach in the yachting sector.
Discover what makes them so special.
Find out more